Fully equipped camper
Rental for a day or more!


Camper rentals in the Tokyo, Kawasaki and Yokohama areas
With convenient Share-can!
普通免許で運転OK!
充実の装備で快適な車中泊!
駅徒歩5分 パーク&ライドOK!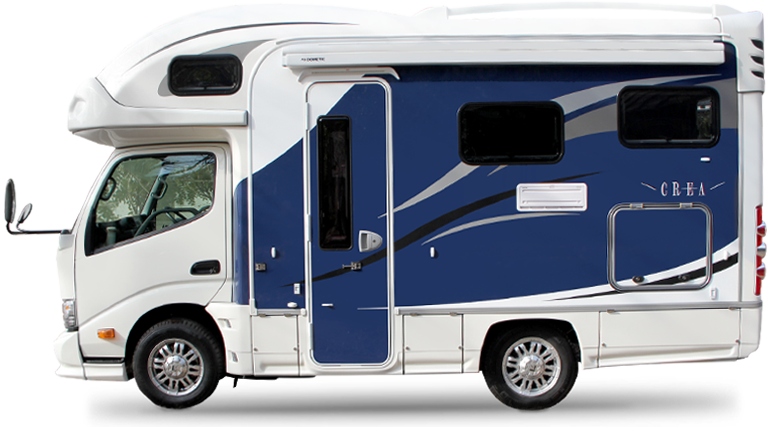 Vehicle
Build by Nuts RV in Japan
Crea Evolution 5.3X
(Based by Toyota Camroad)
It can be driven with an ordinary license.
Spacious semi-double bed and bunk bed,
It features a relaxed and relaxing dynet.
Feel free to choose where you want
You can enjoy a comfortable night in the car.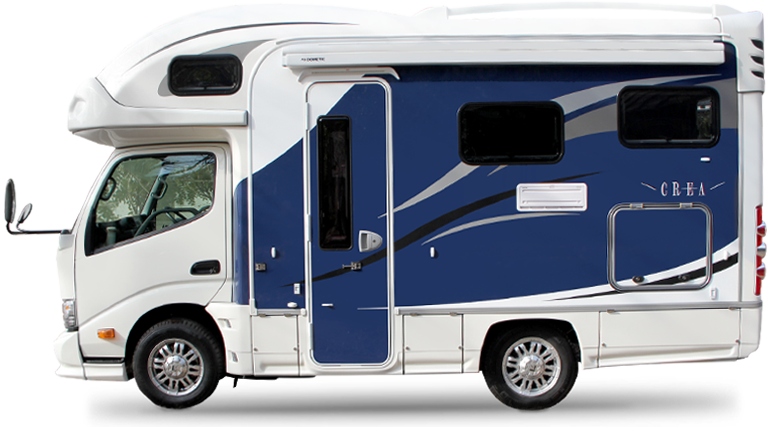 Normal license OK
2WD 3000cc diesel oil diesel turbo
Automatic transmission
6 passengers
6 sleeping capacity
Back camera
drive recorder
ETC
Car navigation
Large storage space
Semi double bed
Bunk bed
Spacious dining. Fully equipped kitchen, microwave oven, and refrigerator.

Equipped with entertainment functions such as TV, DVD, Wi-Fi, etc.

Semi-double size bed, air conditioner, hot water shower room.
Fully equipped equipment


that enables comfortable overnight stay
Electrical outlet(1500W)
External power connection
Solar charging system
Air conditioner
Webasto heater
Freezer refrigerator
Cassette gas type gas table
Water supply / drainage system (60 liters)
Electric / engine exhaust heat type water heater
Hot water shower
TV
CD / DVD
Wi-Fi Internet
Side awning
Microwave
Air cleaner
Options
One-way kit
(New, ready to take home after use)
One-way amenity kit
(1 person)

Sleeping bag, pillow, bath towel,
Hand towel and toothbrush set

5,800

yen
One-way Tableware,
Cutlery kit(4 persons)

Mug, cup, plate,
Set of tray, fork and spoon

3,800

yen
One-way Kitchen kit

Cooking equipment set such as
pots, pans, cups, scoops, etc.

3,800

yen
One-way Blanket

3,800

yen/1piece
Bedding and room equipments (rental)
Electric kettle

free
Sleeping mat for Bank / rear bed

free
Sleeping bag(for 2 persons)

1,000

yen
Sleeping bag(for 1 person)

1,000

yen
Camping gears (rental)
Outdoor dining table for camping
(for 2 ~ 4 persons)

1,000

yen
Outdoor chair for camping

1,000

yen/4chairs
Outdoor cooking table for camping

1,000

yen
Gas stove for camping

1,000

yen
LP gas(small)2 units

1,500

yen
Outdoor illumination lights with
decoration flags

1,000

yen
Cooker set
(pots, pans, scoops, chopsticks)

1,000

yen
Cooler box, Large

1,000

yen
Others
Park and ride
(You can park your car)

free
Luggage collection service
(Please send to us by courier)

free
Cleaning kit(Cleaning cloth,
tissue paper, garbage bag)

free
Wi-Fi internet

free
Water supply / drainage treatment service
(Hand over the water supply tank,
wastewater treatment at the time of return)

free
Forwarding / collection service

10,000

yen/10km
Child seat

1,000

yen
Rental fee
Weekday
Saturday, Sunday, and Holiday

22,800

yen/day〜

28,800

yen/day〜
※Please check the calendar for charges by usage date.
※Tax will be charged separately.
Incidental insurance
This vehicle has the following supplementary insurance.
In the unlikely event of an accident, please ensure your personal safety and provide the necessary rescue, then notify the police immediately and contact the incidental insurance company and us.
| | |
| --- | --- |
| Personal compensation | Unlimited |
| Objective compensation | Unlimited |
| Personal injury | One driver limit 50,000,000 yen |
| Vehicle compensation | Amount equivalent to the market price (100,000 yen for self-pay) |
※

Please be extremely careful in cases where the ancillary insurance / compensation system does not apply. (If you do not report the accident to the police and you do not have an accident proof-An accident caused by a person other than a registered driver driving, an accident due to unlicensed driving, an accident due to drunk driving, or the borrowing period was postponed without permission In case of accident or other violation of terms and conditions of rental)
Road assistance service
If your car becomes stuck due to an accident, breakdown or trouble, you can use the Road Assistance Service free of charge.
Initial response concierge service
Transportation / Accommodation Support (Transportation from Accident / Failure Area / Accommodation Guidance)
Nearby Repair Factory Guidance
Night Holiday Medical Institution Guidance
Message to Family
Wrecker service

About 170

km (up to 300,000 yen per accident)
Repair service
Battery exhausted
Out of gas
Spare tire replacement work (not for flat repair)
Key closure, theft or loss
Other emergency work within 30 minutes
※

The above road service is a road assistance service provided by the incidental insurance company.

※

Please note that the Road Assistance Service may be charged depending on the work contents, and the cost related to that case will be borne by the customer.

※

Please note that the puncture repair costs incurred by the customer will be borne by the customer. (In addition, if a flat repair cost is incurred, you will be exempted from joining the "Anshin guarantee pack".)
Non-operation charge
In the event of an accident, theft, damage caused by customer use, stains, vehicle damage, etc., a non-operation charge will be charged according to the case. (Tax exempt)
If the vehicle cannot be returned to the planned return location due to an accident, etc.

150,000

yen
When an accident etc. occurs and the vehicle is returned to the expected return location by self-propelled.

100,000

yen
Compensation for suspension of vehicle (In addition to the above amount, if the vehicle cannot be rented to a member due to repairs, damage, stains, or malfunctions, we will charge you in addition to the above amount)

10,000

yen/day
※

In case of damage / contamination of vehicle interior equipment that is not covered by incidental vehicle insurance, the actual cost of repair / cleaning will be charged.
Anshin guarantee pack (optional subscription)
The Anshin Security Pack is a self-pay amount (deductible amount) of incidental insurance, a non-operation charge (excluding car compensation) when an accident or repair occurs, repair of damaged tires when a flat tire occurs It is a security pack that allows you to use your car with peace of mind, with a set of expense exemption and compensation for temporary accommodation expenses and return transportation expenses in the event of an accident.※1
Per day

3,500

yen(Tax not included)
※1 The cost for temporary accommodation is approximately 15,000 yen per person. About 20,000 yen per person (disclaimer of 1,000 yen) required to travel to your home.
Cancellation policy
For cancellation after the reservation is confirmed, a cancellation fee will be charged according to the number of days until the reservation date. If the usage fee has been settled, the remaining amount less the cancellation fee will be refunded.
| | |
| --- | --- |
| Cancellation from the confirmed date to 10 days before the reservation | 10% of total usage |
| Cancel up to 9 days before reservation | 20% of total usage |
| Cancellation 8 to 2 days before reservation | 30% of total usage |
| Cancellation up to the day before the reservation date | 80% of total usage |
| Cancellation after the day of reservation | 100% of total usage |
Rental station location
(Hiyoshi station)
Tokyu Toyoko Line, Meguro Line, Yokohama Municipal Subway Green Line / 5 minutes walk from Hiyoshi Station
20 minutes from Tomei Expressway Yokohama Aoba IC., Tomei Kawasaki IC. / 10 minutes from Daisan-Keihin Tsuzuki IC. /
10 minutes from Shuto-Expressway Yokohama-Hokusei Line Baba IC. / Park & Ride available
Address

〒223-0062
Hiyoshi-honcho 2-8, Kohoku, Yokohama, Kanagawa
Business hours

10:00〜18:00
(Consultation regarding rental / return time)
Office location
Address

〒223-0062
Lions Building 3F, Hiyoshi-honcho 1-24-18, Kohoku, Yokohama, Kanagawa
Business hours

10:00〜18:00
Usage guide
1

Confirmation of desired date of use

Please check the reservation status and price on the day you want to use from "Click here for reservations and inquiries."
2

Member registration to ShareCan

Please click the desired start date from the calendar and complete the membership registration for ShareCan.
3

Input of usage schedule, options and customer information

Please enter the desired dates / options and required input items according to the guidance.
4

Select payment method (temporary reservation and temporary payment)

Please use the PayPal account (credit card payment) to complete the payment settings. Once payment is set, it will be a tentative reservation.
5

Our confirmation and official reservation / payment

After confirming the tentative reservation from the customer, we will make an official reservation. The tentative payment will be made officially together with the official reservation.
6

Please come to the station by the reservation time

Please come to the rental station by the reservation time. If you come by car, you can park at the rental station.
FAQ
About using a vehicle
Can I drive with an ordinary license?

You can drive with an ordinary license. Since it is an automatic (AT) vehicle, it can be used with an AT-only license. In addition, the charge type on the expressway is "normal car".
Is it possible to go to the station with my private car, park the car on the spot, and leave?

Is possible. You can park your car at the station free of charge while you are in the car. We are not responsible for accidents or troubles while parking, so please be aware of this before using.
Can you send the car home? Can you collect it when returning it?

We will send it to the designated place for collection and collection (10,000 yen per 10km). We will estimate the shipping and collection fee, so please check before applying.
Can I bring my pet?

It is possible, but please prepare a cage in the room and pay attention to the pollution of the vehicle equipment before riding. A 20% surcharge will be charged as a cleaning fee.
How many passengers / sleeps are there?

There are 6 passengers and 6 sleeping, but considering the indoor space, we recommend that you sleep 3 to 4 people and consider using a tent.
Do you have any special precautions when driving a car?

Please note that the height of the car is 2.8 meters, so it may not be possible to put it in a guard with a low height, a tunnel or a multilevel parking lot. When backing up, the rear parts of the left and right bodies are hard to see, so it is safe to ask the passengers to check the back monitor.
About reservation
Please tell me what you need to make a reservation.

Please prepare an e-mail address that can receive communications from our company and register as a member (free) at ShareCan. For payment of usage fee, PayPal Personal (individual) account, so please prepare a credit card and register your account in advance. After making a reservation, you will be asked to submit your identity verification document (driver's license image) from My Page. Please prepare by the day of use.
Please tell me how to make a reservation.

First of all, please check the reservation status / price on the desired date of use from the calendar posted on this website. If you are using ShareCan for the first time, please complete the membership registration (free) from the "Reserve" button, then click the desired date from the calendar and proceed to the reservation procedure.
I'd like to confirm the reservation details. I'd like to inquire about the reservation details.

You can check from My Page of ShareCan. We also have a chat function with our desk, so if you have any questions, please feel free to contact us.
Is it possible to change the schedule after booking?

We will respond flexibly to the extent that it does not affect reservations from other customers, so please contact us.
Preparation in advance
Is it possible to send the luggage in advance?

Is possible. Please send it to our office (Librez, Inc. Lions Building 3F, 1-24-18 Hiyoshi-honcho, Kohoku-ku, Yokohama, Kanagawa 223-0062 ). It will be loaded into the car in advance before use. Please refrain from fragile or refrigerated / frozen products.
Do I need to bring in bedding?

It is convenient if you have a mattress, a blanket, a pillow, a blanket, a towel, etc. for your home. As an option, a one-way amenity kit and a sleeping bag that has been cleaned are available. The room is relatively airtight and equipped with an FF heater and a home cooler, so you can have a comfortable time.
About in-vehicle equipment
How much can the water supply / drainage tank be used?

It has 60 liters of water supply and drainage tanks, respectively, and can be used for several days such as washing dishes, hand washing, face washing, and brushing teeth. It takes about 10 minutes if you use the full shower. When water is supplied during travel, it is necessary to treat the drainage that has already accumulated, so please treat it at an appropriate place and method.
Can I use hot water?

Equipped with two systems of hot water generation equipment: hot water generation using engine exhaust heat and hot water generation with an electric heater when an external power source is connected. After running or heating for about 30 minutes, you can use hot water of 60 degrees or more. Before using, make sure that the water tank has sufficient remaining capacity to prevent it from being water-fired. Be sure to close the radiator cock and turn off the hot water switch when not in use.
Is it possible to drive with the windows open in the room? Is it possible to drive while using the ceiling ventilation fan (ventilator)?

Do not drive with the windows open or the ventilator open, as it is dangerous.
Can I use the internet?

Available for free. Just by turning on the power of the car navigation system using the dedicated switch, you can use the Wi-Fi Internet that is always connected even when the engine is stopped.
Can I watch TV?

You can watch the TV output of the antenna installed in our vehicle or the car navigation system on the TV. If you bring Amazon Fire TV etc., you can enjoy the video contents via the Internet.
Can I use the freezer? What is the performance?

It can be used in the same way as a normal home refrigerator / freezer. The freezer can store ice, frozen food, ice cream, etc. In addition, please turn on the main switch while using the refrigerator.
Is it possible to cook at the car-mounted gas table?

Please refrain from cooking in the car as it may cause oil splashes and odors. When boiling water, it is convenient to use an in-vehicle electric kettle.